Hanover Hills Hardwood Flooring
Hanover Hills hardwood is made with homeowners wants and needs in mind. Discover the look and authenticity of classic solid hardwoods as well as the easy care and durability of an engineered collection in a range of styles such as traditional, hand-scraped, and rustic. They even have exotic hardwoods for you to choose from as well. You can find the hardwood floor you want and need with us at Gold Star Carpet One Floor & Home in Denison.
Hanover Hills also provides a large selection of plank widths and gloss levels to suit your tastes in addition to basic characteristic like tones and grains. Each collection also features a universal trim program will help you with the finishing touches. And, of course, Hanover Hills is an outstanding value with price ranges and warranties to fit virtually every need.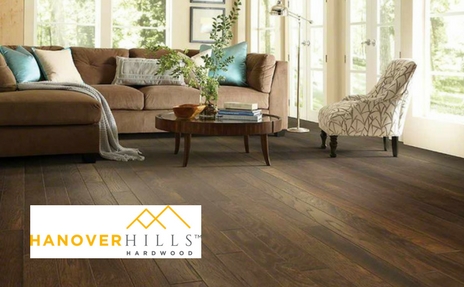 Benefits of Hardwood Flooring
As a result of the development of engineered hardwood, you can have wood flooring in more spaces around your home for a more unified look. Hardwood is a long-lasting and naturally durable option that adds value to your home. If you follow care instructions, you hardwood floors will last for years. Hardwood can be installed in several rooms around your home, and comes in a variety of styles, colors, types and more for you to choose from. As a member of the Carpet One Floor & Home cooperative, our exclusive brand Hanover Hills hardwood features beautiful wood details and is incredibly affordable.
Traditional or exotic wood options are available, each with their own characteristics that make them unique. Another component to a hardwood floors look is its finish.
Traditional: As the name implies, this finish results in a clean, classic look.
Hand-Scraped: With this finish, your floors will have a homey feel as each plank is unique.
Rustic: Give your floors a touch of old with a weathered look.
All of the floors from Hanover Hills are built to last and stand up to life's tests. Strong, durable planks will ensure that you can enjoy you floors natural beauty for many years.