Hardwood Refinishing Services
If your hardwood floors seem like they could use some sprucing up, consider hardwood refinishing. Whether your floors have been exposed to many years of wear and tear and high activity, or you just discovered hardwood underneath carpet in an older home, hardwood refinishing can be just the thing you need to make them look brand-new again. At Gold Star Carpet One Floor & Home, we offer hardwood refinishing services to help you bring back your hardwood floors.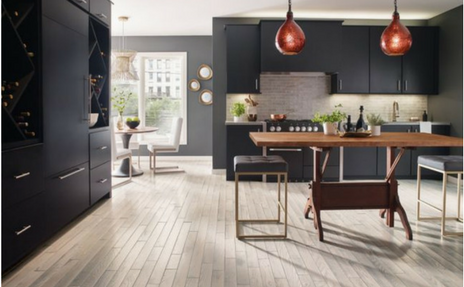 Types of Refinishing
If your hardwood floor scratches and scuffs are mostly on the surface, buffing can be a great way to beautify them. With the buffing technique, hardwood floors are buffed to take off the top layer of finish and get surface-level scratches out. After the finish is removed, a new coat of finish can be applied in either water-based or oil-based finish, keeping floors the same color while renewing the top layer.
Sanding and refinishing is much different than buffing, and requires sanding floors beyond the wear layer and stain. After removing most of the wear, stain, and finish, hardwood floors can then be re-stained, and a new finish applied. It takes several days to allow the floors to dry once stain and finish have been applied. Furniture must be moved and cannot sit on hardwood floors that have just been refinished. One of the benefits of sanding and refinishing is that you don't have to choose the original stain or finish that was on the floors. While the species of your hardwood doesn't change, the color can change with the use of a different stain. Even a small difference can be noticed between water-based and oil-based finishes when it comes to tint.
If you are interested in refinishing your hardwood floors, stop by our showroom in Denison, TX, or give us a call today!